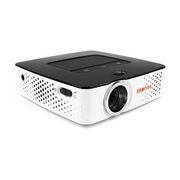 XSories X-Project with Wi-Fi Projector

Actual Size: 3.7" x 2.1" x 0.9"

Outlets: 1
The X-Project Wi-Fi gives you the freedom to watch what you want, when you want, no matter where you may be. You can attach just about any device to it, from SD cards, USB flash drives, HDMI, to play virtually any video file from a wide range of sources. With 2 hours of battery life, it's the perfect partner for sharing your content at home or while traveling, and it also has Android OS built in so you have many of the features of a tablet right at your fingertips. You can also connect to it via your Wi-Fi network at home. The X-Project Wi-Fi takes sharing, viewing, and listening to videos to a whole new level.